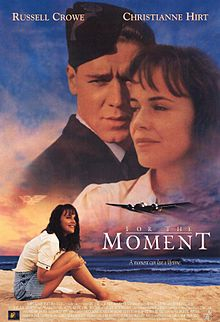 February is writing month!
At the moment one of the projects I'm working on is a theatre adaptation a Canadian film, For the Moment, (screenplay by Aaron K Johnston).
Set in Manitoba in 1942, it chronicles the romance between Lill and Lachlan. She's a nice married girl from the prairies, he's an Australian training in Manitoba with the British Commonwealth Air Training Plan before heading over to Europe. They meet and as she puts it,"I met the wrong man and the wrong time and it was wonderful."
Over 250000 men and women participated in the BCATP- it was one of Canada's major contributions to the WW2 war effort. My grandfather received his training as a navigator in the BCATP before joining the RCAF in North African campaign.
The film was Russell Crowe's first role outside of Australia and featured an international cast while showcasing the BCATP museum in Brandon, Manitoba, as well as a number of small Manitoba towns.
I'll update about the adaptation as news emerges!