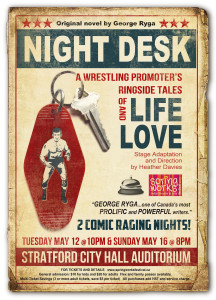 Night Desk,
original novel by George Ryga, adaptation by Heather Davies
"Comic and raging. A fight promoter's ringside tales of life and love."
"Imagine if Charles Bukowski and Scherazade had a love child… that would be Night Desk."
Poetic and passionate, Night Desk is a new play inspired by the internationally acclaimed Canadian playwright who created the ground-breaking play, The Ecstacy of Rita Joe.
"George Ryga was responsible for first bringing the contemporary age to the Canadian stage." Theatre Director John Juliani
I'm thrilled that I've received Ontario Arts Council Theatre Creators Reserve grants in both 2015 and 2016, allowing me time to dive into adapting Night Desk (George Ryga's 1976 novel) into a live-performance piece including dance, projection and epic story-telling.
The central character is Romeo Kuchmir, a wrestling promoter from Edmonton, an outrageous, unforgettable man.
On a dark winter night in a cheap hotel, Romeo shares his earthy vision of the world, spinning tales about the wild 1950's wrestling world, secret, forbidden loves and growing up on the prairies. All the while, the young hotel clerk, known as the Kid, quietly scribbles away at the night desk.
The Kid is writing Romeo's stories and Romeo wants to be remembered, but he wants it done his way… And that ain't gonna work for The Kid.
We had our first public reading of this new Canadian play in May 2015.

Here's our SpringWorks link:
http://www.springworksfestival.ca/#!night-desk/cyk8
Our cast included:
Nigel Hamer
Eli Ham
Kelly McIntosh
Andy Pogson
Stacy Smith
The response to the developing work was extremely positive and I'm about to start work on a second draft. I look forward to updating you on the progress on this audacious, poetic, sexy world in the near future.