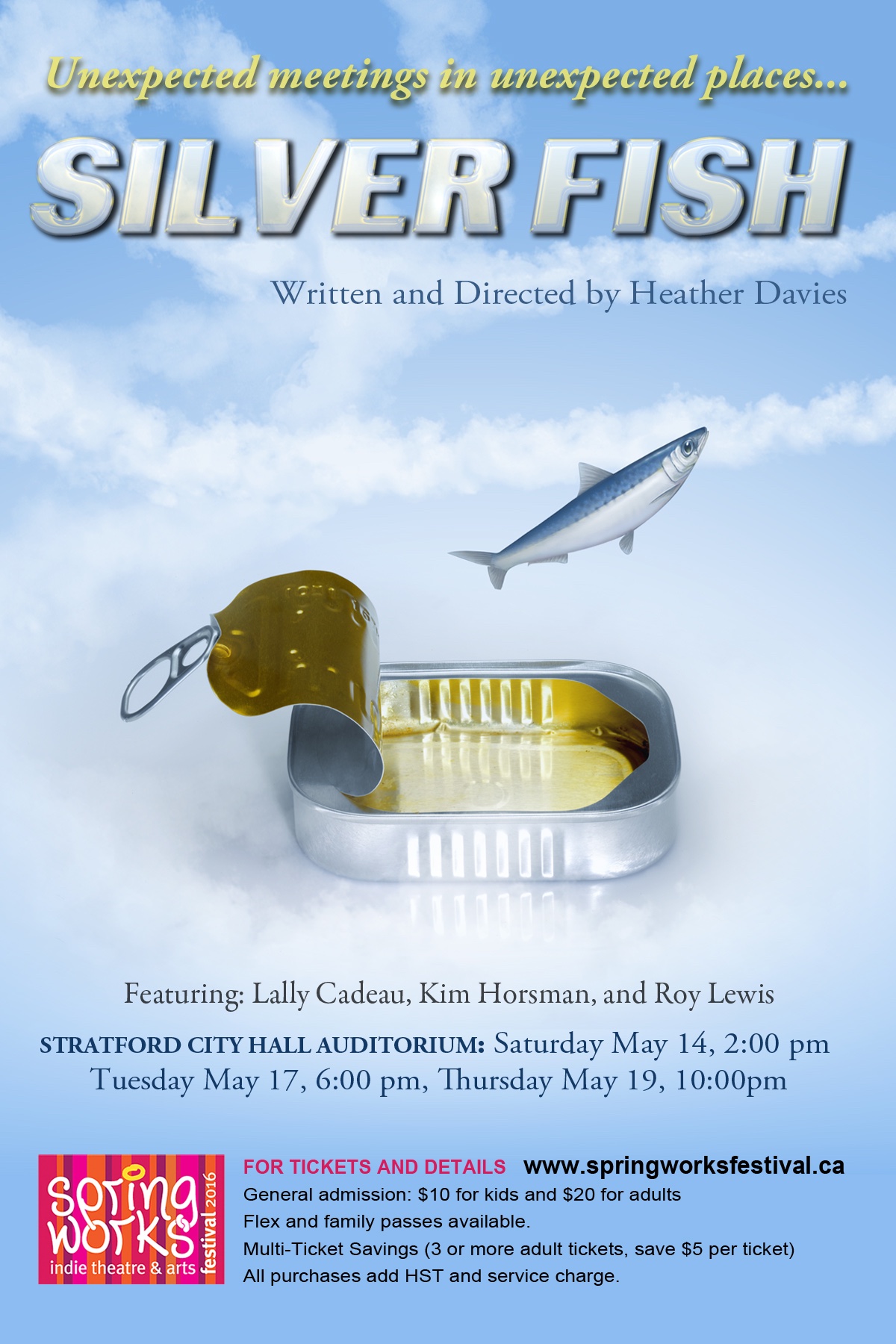 Silver Fish
A reading of a new play in development by Heather Davies
Part of SpringWorks Indie Theatre and Arts Festival in Stratford Ontario in May, 2016

Check out this superb festival at:
http://www.springworksfestival.ca/
Silver Fish Synopsis:
Two diverse stories connected by two 'silver fish'. The frozen man who fell from the passenger plane was found with only a mobile phone. Sue, deeply affected by discovering him dead on her street, attends numerous cultural memorials for the unknown stowaway. At the same time, Gladys, the old guard at the sardine packing plant in Black's Harbour meets Khanh, a newly arrived Vietnamese 'boat person'. With this encounter, Gladys's family and the tightly knit New Brunswick fishing village are forever changed. Exploring themes of confinement, community and travel: Silver Fish, a play in development about unexpected meetings in unexpected places.
Written by Heather Davies. Her adaptations of Judith, (award-winning Canadian novel by Aritha Van Herk) and Night Desk (novel by Canadian theatre pioneer George Ryga) have played to critical acclaim here at SpringWorks over the last three years.
Featuring: Lally Cadeau, Kim Horsman and Ngabo Nabea
Direction: Heather Davies
Dramaturgy: Matthew Thomas Walker
Show/Performance 1: Saturday May 14 @ 2pm
At Venue: Stratford City Hall Auditorium
Show/Performance 2: Tuesday May 17 @ 6pm
At Venue: Stratford City Hall Auditorium
Show/Performance 2: Thursday May 19 @ 10pm
At Venue: Stratford City Hall Auditorium
More information at: http://www.springworksfestival.ca/#!swf2016-silver-fish-1/prjrr